Airtel 3G With Samsung Galaxy S2 : My Alternate Source For High-Speed Internet
India, My Thoughts, Technologies, Tips ·

Can you imagine life without high speed internet access? Without it, we won't be able to:
Enjoy services provided by sites like Youtube
Download free and opensource applications
Make video calls through services like Skype
Share screens and work from home (I hope you like it)
Seriously, high speed internet adds significant value to our daily life. Like most of my friends in India, I use BSNL Broadband to access high speed internet service at home. It provides pretty good connectivity in terms of speed and quality as shown in the screenshot below: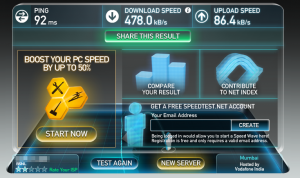 However, during monsoon period, I often face connectivity issues which can cause problems, especially if I want to work from home. Thus, I prefer to have alternate source of high speed internet connection as backup. I prefer this source to be wireless and stable while providing good internet speed.
While searching for another source of high speed internet access, I came across Airtel 3G. Following screenshot will show you the speeds that I get with Airtel 3G: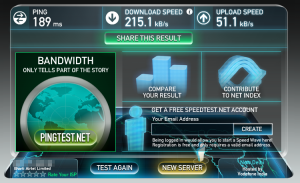 These screenshots show that Airtel 3G provides internet with speed which is half of what is provided by BSNL broadband. Depending on the quality of network, I can even get better speed.
To access this internet connection on my laptop, I make use of the "Portable Wi-Fi Hotspot" feature provided by my Samsung Galaxy S2 mobile phone. It's a great device with lot of good features and this is just one of it.
I have been using the internet provided by Airtel 3G for around a month now and I am pretty much happy with it. Now I use it for most of my regular tasks and rely of BSNL broadband only to download large files.